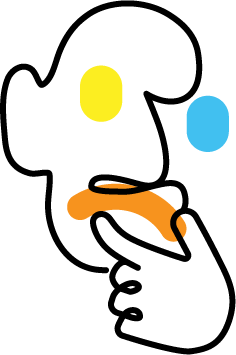 Does it sound strange to you?
Atheism and laïcité, what's the difference?
"I do not believe in God, so what? Do you find it weird?" Apparently, they do! My roommates at the International University Campus in Paris found it weird that I am an atheist.
Truth be told, it doesn't surprise me much: Ethan, the American, came from a country where they have their faith, "In God We Trust", printed out on their dollar bills. Aimal, on the other hand, was an Afghan. He prayed multiple times a day.
I, Andrej, am Czech. Like most of my fellow countrymen, I'm an atheist. Back home, like in France and lots of other countries, being an atheist isn't shameful. It's possible to state it loud and clear without being looked down on or worse, being imprisoned or hung. Being an atheist is taboo in the USA. In Afghanistan, you can be lynched for it.
Our cultures are so different that I spent a long time convincing Aimal and Ethan that not believing in God doesn't go hand in hand with being immoral – that I was able to tell the difference between good and evil without God's help.
Aimal went to question Antoine, to check if this Czech oddity was also normal in France. Antoine is a Parisian who teaches us French:
"Antoine, when you talk about religion here, in France, all you talk about is laïcité. Does it mean that you're an atheist as well?"
Antoine laughed quite a lot:
"Well, no I'm not, I'm a Catholic! It doesn't prevent me from embracing laïcité. Laïcité is a set of principles. It guaranties that a Muslim like you Aimal, a Jewish like Ethan or a Catholic like me can each practice our belief, freely. It also guaranties that you're allowed not to believe in anything at all, like Andrej, the atheist. Laïcité is refusing to favor one religion or philosophical belief over another. Laïcité is making all religions equal in the eyes of the law. That's why in France, religion is private: it doesn't belong in the political realm, it cannot influence governmental decisions. To respect these principles is to be laïque. That's why I'm a believer and a laïque at the same time! Do you still find it weird?"
To go further (for those who learn French).
Here's the text in French and a few exercises on the most common suffixes, familiar and formal registers, and grammatical genders.
Find out about the shares of religious people in the EU and those of atheists in the world.
Read the investigation by France 24's Les Observateurs: "Atheists, who are mainly a minority in the world, are often frowned upon, rejected, discriminated against, persecuted even…"
Video
American presidents take an oath on the Bible. Why isn't that the case in France?
Didier Leschi, an expert on laïcité, explains this to us. Find him in the videos of the MOOC Ensemble en France, subtitled in 7 languages. He'll tell you more about laïcité!